World's #1 AI-based

weight loss plan
Get the best-selling AI exercise & meal tracker app. Say goodbye to binge eating, discomfort & yo-yo diets. Access detailed, easy-to-follow meal plans and guidance from coaches.
Immudi customers have a lot to say about their achieved goals
Tell us about yourself

we'll help you achieve your goals
Only 60s to fill in the quiz
Get your weight-loss plan
We'll create a detailed, easy-to-follow plan for you
Take it one step at a time
With the help of our coaches & accountability groups
You deserve

a better health journey
Enjoy a healthier life without cravings, binge eating & struggle
Say goodbye to cravings and welcome a more peaceful feeling of satisfaction. Many studies suggest that incorporating anti-inflammatory foods into your diet can help you feel better. But with well reviewed Immudi program, you can also expect to lose excess weight.
Immudi weight loss plan offers a range of support and accountability options to help users stay on track. Our experienced coaches work on providing high-quality resources to help you reach your unique goals. Our online community provides a supportive and encouraging space where users can connect with others on their weight loss journey. With our weight loss plan, users are never alone in their pursuit of a healthier, happier lifestyle.
You're one step closer to your health goals
Our AI-powered app provides daily tips, activity tracking, recipes, and education to help you stay on track and visualize your progress. Follow our expert-led practical guides towards a healthier & happier life.
AI chef that adapts to your fridge content
Don't have all the necessary ingredients? Too lazy to go grocery shopping? No problem. We've implemented the latest AI technology to offer you more options and alternatives. Now you can easily select your preferred cooking method and ingredients and receive a tasty recipe.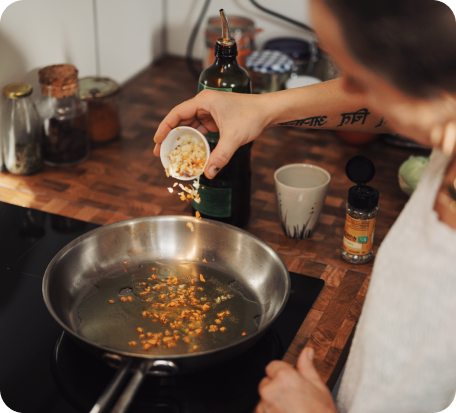 Success stories from

Immudi community
You deserve

a better health journey
I'd never send anyone my before-after photos but in this case I just had to write about it. I am down 10lbs in two weeks. As an added benefit, my stomach seems visually flatter. My virtual coach is wooonderful and it keeps me accountable every day!!
I am in love with my AI coach!! I am down 16 lbs. When I put these pictures together:I was 144 lbs when I started and I am down to 128 lbs. I really want to tone my belly more and maybe rounder glutei as well. I think that I would like to lose 4-8 pounds more.
I tried many other weight loss programs but this is a game-changer! It's like a real coach that helps me with meal plans, workouts, and keeps me motivated daily when I'm lazy! All this helped me lose 13lbs. I feel that my energy is back, feeling much better overall!!!
Start your weight loss journey with Immudi
Discover a healthier, happier you for less than $1 a day.
Providing a complete

workplace wellbeing solution
Our Corporate Wellbeing and Weight Loss Program provides custom solutions with personalized meal choices. Our platform has already helped over 140k users on their wellness journeys, and we can help you. By incorporating our product into your corporate health program, you can offer your employees a chance to achieve their weight loss goals and improve their overall health.
Corporate Wellbeing & Weight Loss Program